Eastport Marina Experience
Eastport Marina and Resort is a full service marina located on Pickwick Lake and the Tennessee River at mile marker 225 where Bear Creek and the Tennessee River join at the Mississippi Alabama stateline in Iuka, Mississippi. Eastport Marina is a 50+ year old family oriented marina, cabin rental, boat rental vacation retreat with all services for family fun and vacation. Pickwick Lake rental cabins at the marina.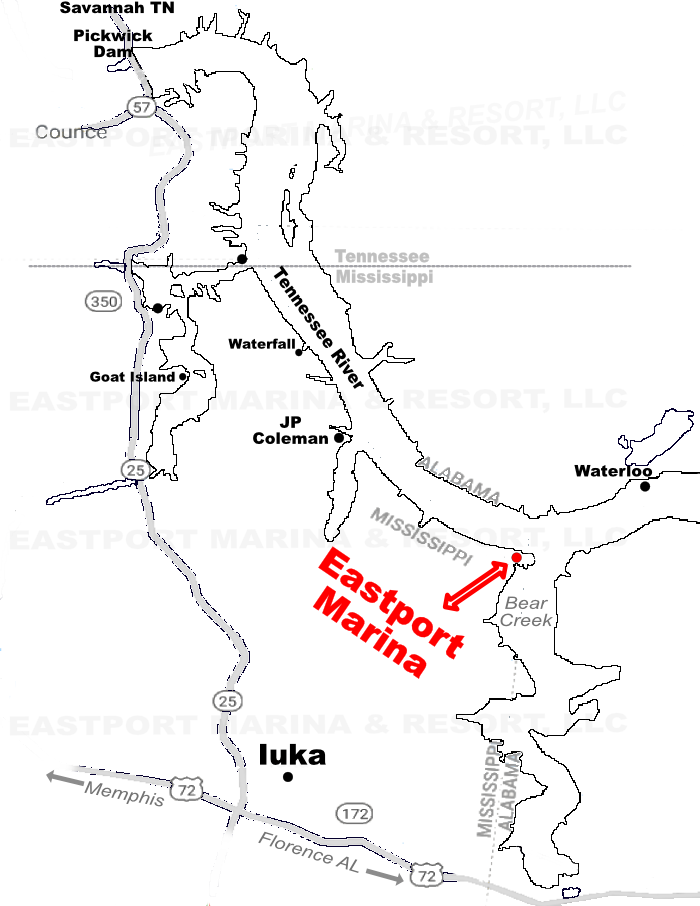 We offer boat repair and over one hundred in-water covered boat storage slips for boats up to 40 feet in length and dry storage slips with valet service for boats up to 30 feet in length. Also available is overnight space for transient boaters up to 90 feet in length. We are on the Great Loop route. Welcome Great Loop Boaters. Our restaurant is open on Saturdays and Sundays from 8:00 a.m. to 2:30 p.m. during season. We serve a full breakfast and have the reputation of " The Best Cheeseburger on Pickwick Lake"
Our area of Pickwick Lake is the least conjested and it's spread out over a larger water area of the lake. Most folks say "It's more laid back", "I feel like I really have gotten away from it all" and "It's so relaxing". The Eastport and Bear Creek area truly is the greatest part of Pickwick Lake!
You can create a great economical vacation at Eastport Marina. We offer it all at one place - Cabin Rental, Boat Rental and a weekend restaurant during season.